Updated cubemain.txt that fixes Barbarian and Sorceress Veteran Charm skill
looping bug, making it possible to get the ANY skill like the other classes.

To install, simply move or extract the fixed cubemain.txt file into your
"..\Diablo II\es300r\data\global\excel" folder.
Also included is a copy of the ORIGINAL cubemain.txt from ES3.00 R6D installer.
Download:
http://www.mediafire.com/?e5w37idb4wi30rf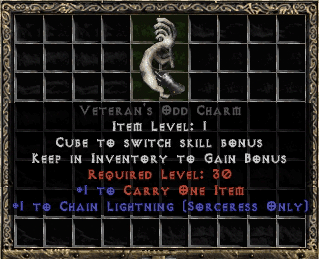 Just a heads up, this isn't tested 100%.
It worked
FOR ME
well enough, but caution should be taken until more feedback is received.