Maps: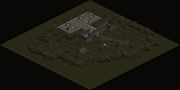 In-game screenshots:
In-game video:
[

Download

]
Her you go, guys! Enjoy!
The Guild tilesets are
New_ext.dt1
,
new_int.dt1
,
new_ext2.dt1
and
new_int2.dt1
. I also included Guild maps .ds1's.
I also included vanilla tiles with units palette, because Guild maps are Act 5 maps, so if you want to use them us LevelType from Act 5.
And to view the guild maps in your DS1 Editor, you will need to put them in your Loader.
P.S oh, and they are all in Units palette, so you can use it across all Acts
I also want to thanks
HZ
for help.
Credits:
Paul Siramy
HZ
Necrolis
All members of Phrozen Keep